This bedroom also has a comfortable modern double bed and a wardrobe. Once again, soft colours were used for the furnishings along with wooden floorboards.
A home cinema system has been incorporated into the wardrobe for an enjoyable evening watching a film.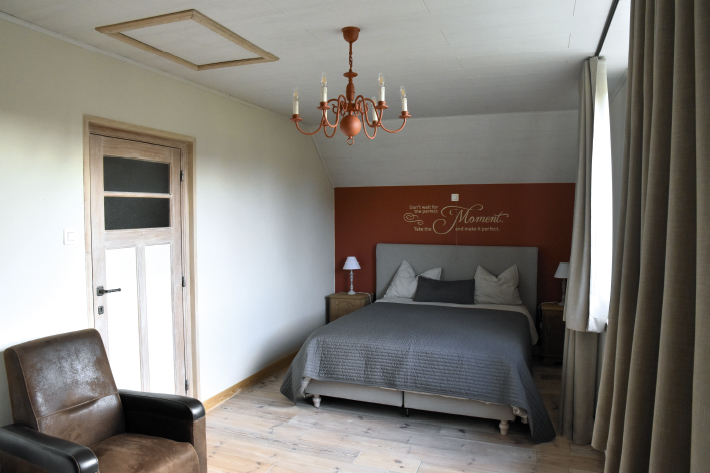 WHAT'S THERE TO DO IN THE AREA?
The village Millen in Riemst, is located in the beautiful Haspengouw and is characterised by meadows, orchards and fields. You'll find the peace and quiet you need amidst many hidden green gems, square farmhouses and vast landscapes.
The surrounding municipalities such as Tongeren, Bilzen, Liège, Maastricht and Voeren abound with special places, with something for everyone!
WHAT VISITORS HAVE TO SAY

On our arrival we were warmly welcomed by the owners' mother who explained how all the equipment in the accommodation worked and we were also given a jar of homemade berry jam. Delicious! We enjoyed our visits to the Wine Castle, the Alden Biesen Commandery and the Gallo-Roman Museum in Tongeren.
Super! House with a great atmosphere and all the mod cons.
Very friendly hosts, great garden for barbecues and for children to play in.
Nice house with large garden, you feel right at home!
Beautifully maintained, nice house with everything you need and more. Definitely a must. Nice house with large garden and all kinds of other comforts so you quickly feel at home.
So over and above the natural order of things and the timeless beauty of the place, Villa Millina provides luxury in terms of welcome, amenities and comfort, the peace and quiet of a beautiful little village in the Belgian Kempen in the Flemish region, and the pleasure you will get out of your stay during walks, moments of relaxation or discovery.
DO YOU ALSO WANT TO ENJOY THE LIMBURG COUNTRYSIDE?
Don't hesitate and book your weekend, midweek or weekly stay now. Villa Millina is the perfect place to start discovering this beautiful green area.